Cheating Devices
---
select from our cheating devices to view information.
These devices are not for sale.
BILL ACCEPTOR BEATER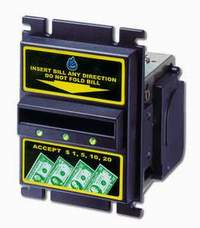 This manual includes multiple methods that work on the most popular bill acceptors, validators, and changers. These bill acceptors are found on many gambling machines at casinos, pubs, cruise ships, etc. The methods will also work on bill acceptors found on vending machines, bill changers and automated betting machines found at horse and dog race tracks. Since casino machines will accept up to $100.00 bills, you can literally rack up several thousand free credits on a machine in only a few minutes, and then simply cash out the machine or play the machine normally and potentially increase your payout. No special tools or skills are required. The principles behind the methods can be easily adopted to work in most countries.
IF YOU SUSPECT YOUR BILL ACCEPTORS ARE BEING BEAT OR YOUR MACHINES ARE PAYING OUT MORE THAN THEY SHOULD, PLEASE CONTACT US FOR CUSTOM SECURITY SOLUTIONS.
Subscribe to our list and get notified regarding website changes and gaming-related news!
Tell-A-Friend about BILL ACCEPTOR BEATER